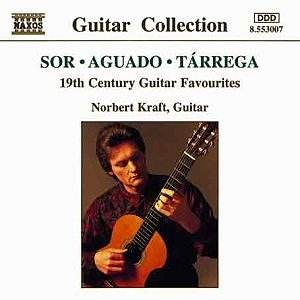 Norbert Kraft - Guitar Favourites - 4.5/5


http://hotfile.com/dl/5776

26/feef53a/upload.zip.html
(sorry for the link - best one I could get)

Here we have to do with something frightening and strange in the world of metal - classical Spanish guitar. Luckily for me my father`s addicted to classical music, so I have plenty to choose from and possibly the most beautiful of classical instruments is the guitar - elegant, energetic, timeless.

The album is a selection of Norbert Kraft`s guitar favourites, as the name implies. Some of the works have been transcribed from other instruments to the guitar, i.e. Niccolo Paganini`s Romanze. Kraft delivers a strikingly lively and emotional interpretation of the pieces - fast when it needs to be fast and slow when it needs to be slow. Even though he`s Canadian one feels like you`re being transported into the corridirs of El Cid`s palace in the 1300`s, where the ministrels compete for the king`s favour. From the beginning one will be persuaded to dance, to cry, to sing and to laugh.

This being a classical album, there isn`t really much further that I can say. It`s a beautiful interpretation of some of the most wonderful compositions of all time. Composers of the likes of Albéniz, Villa-Lobos and Tárrega are perfectly done justice in this fantastic album.

So sit back, relax and let the music soothe you and take your emotions on a once-in-a-lifetime trip through the Spanish guitar. Olé!

Highlights: "Albéniz: Asturias (Leyenda)", "Granados: Danza Española #5"