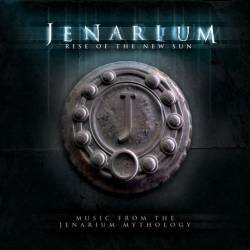 Jenarium – Rise of the New Sun - 1/5
Link

I'd been eagerly anticipating this release for a while now, advertised on a few budget sites but largely remaining unheard of, it's the very concept that lies behind it all that had me on my toes, eagerly anticipating the time it would fall into my hands. Assuming you've never seen the site, it contains an entire history of this concept that looks set to rival Kalisia in the 'epic' department; the noble Jenarium, the master race who gave life to their creations, the Sinturians who take the centre stage in this epic battle across the planet. But lurking deep beneath the oceans are the malicious Rifers, subterranean savages existing in the caverns deep under the ocean floor created by those Jenarium who had fallen from their pedestal, the Notari. Despite the intricacies, it is essentially a battle between good and evil; a concept spanning both books and this debut album complete with a full complement of musicians, choral work and a symphony orchestra; this could have been the work of Magni Animi Viri, Frank Klepacki and Kalisia in one epic wrapping.

The problem here is a little tricky to pinpoint beyond 'its fucking awful.' Take a bit of Rammstein's or Rob Zombie's industrial bombast and mix it with some autotuned pop atrocity by Britney Spears or Lady Gaga (the B-sides that were removed for being too instantly forgettable for filler material) and you have the meat of the project. Interspersed with poor taste are the spoken passages akin to a book on CD, which are irrelevant as with music this bad you'll probably soon lose interest in the concept regardless of whether it was worth it or not. And when the orchestra kicks in to try and create something epic, all it really does is allow you to become disheartened all over again as what sounded like it might become promising goes to shit. It's not enough that they have to kill all your hopes for the project but they have the infuriating desire to resuscitate you so they can do it all over again.

In fact, for an album at 35 minutes in length its rather impressive just how much audial excrement they've managed to pack into this; there sounds like what seems to be a good 10-20 minutes of dialogue, though much of it is difficult to actually hear without straining. Fortunately it never feels like you're missing much based on the grounds of the rest of the music, and quite frankly listening to generic orchestral work in the background is preferable to the minimal actual music being offered, usually filled with one or two nonsensical sentences yelled with a noisy auto-tune. In fact, calling it Industrial as I did before seems a little offensive to Industrial music as the edgy or 'rough and ready' atmosphere the genre promotes never presents itself. Instead it often feels closer to an awful dance track with some mentally challenged man screaming a nursery rhyme over the top; the chorus for "Danger Rising" for example being sung in the same manner as the opening line from "Head, Shoulders, Knees and Toes" and then repeated endlessly.

Well thank you Jenarium, you've removed all difficulty in picking this years biggest disappointment. Robert Dominic Gennari, For the love of all that is good in this world please stop. Stop trying to promote it by using the name of Craig Parker; calling him a 'Star from Lord of the Rings' because let's be honest here, there were trees with more lines than him; claiming he's a gifted actor when his biggest film role to date was a bit part in Underworld 3 (and hence probably not something he should be particularly proud of); and when his only role here was in speaking a few lines of this atrocity. Just...just stop. You filled me with hope and have succeeded in doing little more than pissing on the work of Vangelis, shitting on pop princesses, and hurling huge chunks of vomit over the already questionable appeal of the genre of industrial rock. In trying to make an 'accessible classical film score' you have made an abomination seeming to involve as many participants as you possibly could to maximise the potential ripples of pain and suffering. This is awful on a level I barely knew could exist and will haunt its participants for years to come. Bravo.